in companies that generate between $4M and $10M ARR
at least 10 SaaS businesses
those businesses at a max valuation within 2-5 years
You feel one of the following obstacles blocks them from hitting a much higher valuation:
ARR/Person  is lower < $150K
Time consuming process to produce/deliver the product
Low conversion rates/ not enough leads to work with
Low conversion rate of actual closing, missed sales quota
CLV in stagnation/decline
EBITDA lower < 15% of ARR
Missed growth objectives in international markets
No clear KPIs & targets cascaded to the individual level
Then, let's measure what matters, identify improvement areas, & fix obstacles to scale!
Target
We install our proprietary set of KPI's
Track
We monitor progress, run KPI's sessions & identify growth obstacles for you
Execute
We deploy our scale commando to tackle scale blockers
Improve
We apply our full 100 weeks Scale Program accross the entire portfolio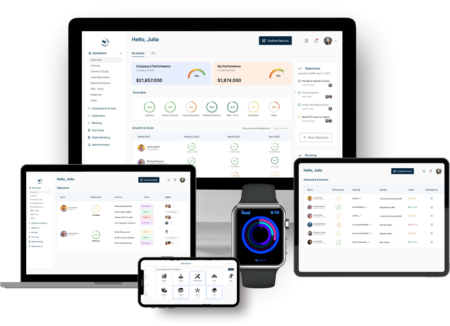 We brought
multiple SaaS companies to a successful EXIT, as PE/VC backed CEOs
We learned
– the hard way – how to measure and improve the KPIs that really matter in SaaS
We built
a Scale playbook for SaaS, based on experience. We call it "100 Weeks to Scale"
We experienced
– more than likely – the exact same challenges your portfolio faces today
We overachieved
and exceeded the rule of 40 in all business we scaled as operators
We unlocked
hundreds of scale obstacles in SaaS companies. This is what we do best !
What is the measurable gain that we bring?
$100,000,000+ ARR for a 10 SaaS ventures in the portfolio
What package feels right to you?
EXIT / IPO
Per Venture (Min of 150 seats)
Scale the business as operators towards an Exit/ IPO
Full implementation of targets & KPIs
Access to Yood platform for all users
4 performance sessions per month (for 3 months)
Growth obstacles targeting system
add "Scale day" sprints* for $3,600/day
Full time scale operator**
📅 Book a Meeting
SCALE COMMANDO
Per Venture (Min of 100 seats)
Target & Solve your scale obstacles together
Full implementation of targets & KPIs
Access to Yood platform for all users
4 performance sessions per month (for 3 months)
Growth obstacles targeting system
add "Scale day" sprints* for $3,600/day
📅 Book a meeting
PERFORMANCE
Per Venture (Min of 50 seats)
Bring Focus & Measurement at all levels of the company
Full implementation of targets & KPIs
Access to Yood platform for all users
4 performance sessions per month (for 3 months)
Growth obstacles targeting system
📅 Book a meeting
*Scale day sprint: Use these days to solve a specific issue
**Time scale operator: Use this time whenever you want to solve your business problems